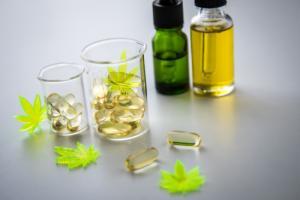 One of the prominent uses of CBD is its effectiveness in curing pain. A lot of CBD products are available for the treatment of pain including CBD pills, concentrates, edibles, etc. However, the commonly used CBD products for relieving pain include CBD oil and topicals. These two products are mainly used by people because of their efficiency and convenience.
Different topicals are available in the market including CBD balms, lotions, creams, salves, etc. These products are applied to the skin for treating pain in a particular area. CBD oil is consumed internally and will produce effects throughout your body. Through this article, we provide more information regarding the application of these products for pain. It will help you to decide which is the right option for you.
How CBD Helps With Pain?
Your body has a special system known as the Endocannabinoid system (ECS) that is responsible for regulating a variety of activities. It controls pain, mood changes, sleep regulation, immune system, etc. in your body. CBD can affect this system, thereby efficiently controlling pain. Hence, this is considered as a promising cure for treating the pain associated with different diseases including arthritis, cancer, etc.
How CBD Topical is Effective For Pain?
CBD topical are created by adding CBD oil into a topical base. You can apply a topical including CBD balm or CBD lotion for pain on a particular part of your body. Topicals are usually used to curb the pain that is present in a specific area like a joint, or any other part of your body. These products produce localized effects. When applied to a particular area, it will interact with the CB2 receptors located there, thereby reducing the pain. Therefore, this is a great option for getting localized effects.
How CBD Oil is Used For Pain?
CBD oil is consumed internally using different methods including vaping, smoking, sublingual method, etc. It can also be mixed with your food items for making the consumption easy. Whatever method you use, CBD will reach your bloodstream for producing the desired effects. It will act with your endocannabinoid system for relieving pain. As CBD oil has high concentrations of CBD, it will produce immediate effects.
CBD Oil or Topicals: Which is The Best for You?
CBD oil produces effects throughout your body. Hence, if you have pain in different parts of your body, CBD oil is the right choice for you. Along with reducing pain, it can also be helpful to control nausea, inflammation, stress, anxiety, etc.
However, if you want to relieve the pain on a particular area of your skin, then CBD topical is your best option. This is also a wonderful choice for people who do not want to consume CBD internally.